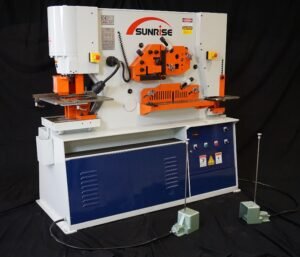 Fab Machines deals with a variety of fabricating machineries like new and used hydraulic ironworkers machines, and beam lines processing that offers unparalleled versatility as well as savings in machine set-up time. We work at a consistent level across the machines making our ironworker machines easily accommodating in which the product is used. Apart from ironworker machines tools and equipment, we also offer metal punching machines, top quality punch press machines, metal pipe bender tools and tube bending tools. We have a job shop through production models. Contact us today!
IRONWORKER - Sizing and Selection
Punch
Diameter through thickness

Maximum diameter

Maximum thickness

Anything besides flat bar or angle iron
Angle
Maximum thickness
Max round or oblong hole
Flatbar
Widest and thickness
Thickest and Width
Round or Square Bar
Channel or I Beam
Width
Height
Pounds per foot
Tensile
Notchers
Other information
Is 2 cylinder wanted
Is 2 cylinder wanted
ANGLE PROCESSING LINES
Maximum angle size
Minimum angle size
Maximum part length
Minimum part length
Stock length
Maximum hole thickness- round/oblong
BEAM PROCESSING
Moving beam (fixed head)
Maximum beam size
Maximum part length
Minimum part length
Holes punched or drilled
Maximum diameter and thickness
Here are Fab Machine, we also carry many parts and other brands that are not listed here.