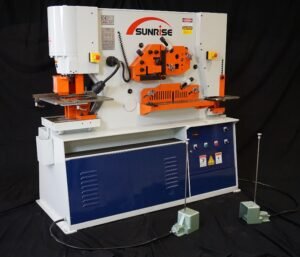 JPW-Edwards has a large selection of hydraulic job shop to medium production ironworkers with lots of options.
Rogers has mechanical ironworkers and punches for ornamental iron work.
Sunrise makes hydraulic production machinery in Taiwan and stocks in MD.
Ironworkers come in manual, semi-automatic, and fully automatic.
Punches come in hydraulic with gauging systems optional.
Make angle and flat bar processing lines.
Cleveland Punch& Die makes tooling and blades for most ironworkers, punches,
and processing lines (angle or flat bar)
Fein/Slugger has portable mag drills for jobsite or in-plant production. Units available to 4" diameter.
IRONWORKER - Sizing and Selection
Punch
Diameter through thickness

Maximum diameter

Maximum thickness

Anything besides flat bar or angle iron
Angle
Maximum thickness
Max round or oblong hole
Flatbar
Widest and thickness
Thickest and Width
Round or Square Bar
Channel or I Beam
Width
Height
Pounds per foot
Tensile
Notchers
Other information
Is 2 cylinder wanted
Is 2 cylinder wanted
ANGLE PROCESSING LINES
Maximum angle size
Minimum angle size
Maximum part length
Minimum part length
Stock length
Maximum hole thickness- round/oblong
BEAM PROCESSING
Moving beam (fixed head)
Maximum beam size
Maximum part length
Minimum part length
Holes punched or drilled
Maximum diameter and thickness
Here are Fab Machine, we also carry many parts and other brands that are not listed here.